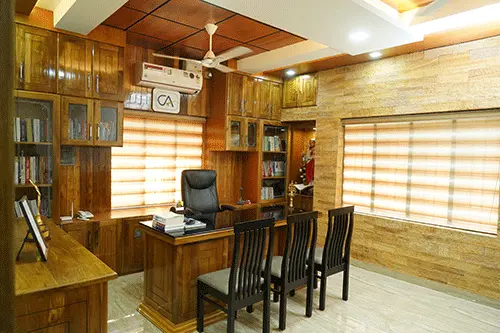 Biswas Institute of Management Studies is synonymous with Quality Professional Education across the kerala. It provides top professional courses like CA, CMA & CS with detailed and concept oriented training. That is why Biswas is producing the highest Passing Percentage in Kerala including All India Ranks.
The college has facilities and infrastructure of global standards. The ambiance of the institution induces learning and maintains the stay pleasant and educative. The college has massive edifice with Air Conditioned Class rooms, Modern Computer Lab, Library, Internet Facility, Hostel etc.
Biswas at present is from the hard work of well experienced and expert Chartered Accountants and Cost Accountants. Through their team work and continuous evaluation of student's performance Biswas strikes with the highest pass percentage in results every year.
Strict & result oriented training and learning by discovery and experience process developed by experts is the approach of disseminating knowledge in this college. The record of achievements of the college including All India Ranks clearly indicates that the institute has firmly established itself as a 'Modern' and 'Progressive' educational institute.
Today Biswas has become one of the premier colleges in India where opportunities thrive parallel with many of the apex professional colleges across Kerala. A large number of students are getting excellent placements in different parts of the country and also abroad. Every year several students are also placed in reputed foreign companies. With immense experience in the field of nonprofit motto education the Management has set exemplary standards in Training & learning.
Our Vision
To be the Pioneer in providing CA, CMA & CS courses with value based and concept oriented training system to create visionary professionals and entrepreneurs enriched with innovation and leadership through integration of teaching and learning, advancement of knowledge, education and research fostering an equitable and productive growth in the complex global society.
Our Mission
"Building Independent & Strong Way to Achieve Success"